The Morrison Government has extended the JobKeeper payment by a further six months to 28 March 2021.

The news has come as a relief to many retailers across the country who were fearing the impending 'cliff' that was looming in September when the current version of JobKeeper will end.
Under the new scheme, which has been dubbed JobKeeper 2.0, there will be a two tiered payment system for employees that work full time and for those that work less than 20 hours per fortnight.
The rate of JobKeeper will also decrease from $1500 per fortnight to $1200 per fortnight for full time employees. This will come into effect on 28 September and will run to 03 January 2021.
Those who are working less than 20 hours a fortnight will receive $750 from 28 September to 03 January.
From 04 January to 28 March 2021, the rate will decrease once more and will see those working full time receive $1000 per fortnight and those working less than 20 hours on $650 a fortnight.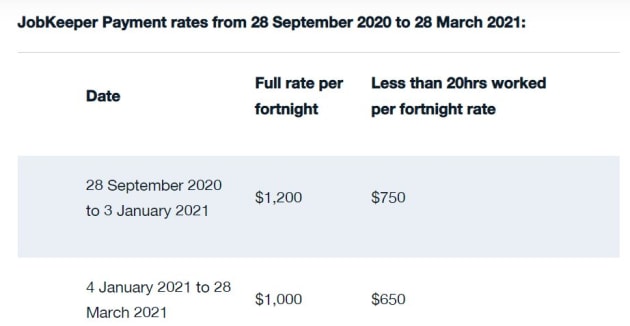 From 28 September 2020, businesses and not-for-profits will be required to reassess their eligibility by reference to their actual June and September quarter turnovers to demonstrate that they have suffered an ongoing significant decline in turnover.
Organisations will need to demonstrate that they have experienced the relevant decline in turnover in both of those quarters to be eligible for JobKeeper in the December quarter.
Then, to be eligible for JobKeeper in the March 2021 quarter, businesses will again have to assess their eligibility and demonstrate that they have met the relevant decline in turnover in each of the previous three quarters (ending 31 December 2020) to remain eligible for the payment in March 2021.
In a statement Prime Minister Scott Morrison said that extension of JobKeeper will help support Australians through this time.
"We will have Australian's backs as we face the ongoing impacts of COVID-19.
"There is no silver bullet and this is about delivering the support Australians need and the policies our economy requires to reopen, recover and create jobs.
"These supports are a lifeline but our JobMaker plan is also setting Australia up for our country's recovery.
"We're delivering the initiatives and reforms that will help grow our economy and create the jobs we need for the years ahead," he said.
For those on the JobSeeker payment, the COVID-19 supplement has also been extended to 31 December 2020.
The COVID-19 Supplement will be extended at a rate of $250 per fortnight.
The government has also increased the income free area to receive JobSeeker and Youth Allowance to $300 per fortnight, meaning that job seekers can earn up to $300 without impacting their eligibility to receive the full payment amount.
Job seekers will have to slowly re-engage with employment services from 04 August 2020 under the reintroduction of mutual obligations to receive the payment.
Job seekers will be required to apply for four jobs per month and will be encouraged to accept job offers that they receive.
The extension of the COVID-19 supplement is expected to cost an additional $3.8 billion, while the extension of JobKeeper is expected to cost an additional $16.6 billion.