Australian retailer The Party People has opened a 3000sqm Halloween pop-up store in the former Toys R Us location at Westfield Knox. 
In partnership with Halloween retailer, Halloween Alley Canada – which is owned by Canadian toy business CMS Famous Toys – The Party People unveiled the expansive Halloween store on 02 September. 
The store includes over 15,000 costumes, lollies and Halloween decorations with many of the products coming directly from Canada making them unavailable in other retailers in Australia. 
The Party People CEO Dean Salakas said that while being a North American tradition, Halloween is getting bigger each year in Australia.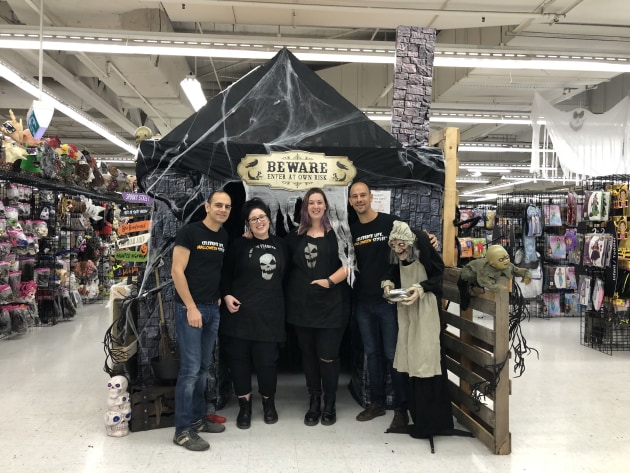 Halloween Alley Australia team L to R: Dean Salakas, Amy Murdoch, Rebecca Gillin and Peter Salakas. 
"Halloween has been growing in Australia every year and this year The Party People have partnered with Halloween Alley (Canada) to bring Halloween pop-up stores common to North America, here to Australia.
"Sales are currently up 42 per cent on last year indicating that this Halloween is set to be the biggest in Australian history. 
"This year's most popular items are IT (the clown), clowns in general and zombies. Aladdin and Lion King costumes are also popular.

"Animatronics [are] very popular this year as décor items, as are more boutique decorating items.

"Historically Halloween decorations have been all about decorating the yard but now it seems many are starting to decorate the house as well and require stylish Halloween decorations," he said. 
Inside the giant, Halloween pop-up is a haunted house experience, with shoppers able to enter the spooky house right in the middle of the store.
The pop-up also features a 'magic mirror' which allows customers to try on a costume without getting changed. The technology allows customers wave their hand in front of the mirror to switch between and try on virtual costumes. 
In Canada, Halloween Alley opens between 20 to 40 pop-up stores each year and the entrance into the Australian market serves as a test for The Party People to determine what consumers want from a Halloween specialty retailer.
Depending on the results of this activity, the Australian market could see multiple pop-ups rolled out next year.