96% of Australian family's spend is influenced by their kids preferences, new data from TotallyAwesome indicates. 
In its annual Kids Digital Insights report, the business found that kids have the most influence when it comes to spend on board games, with 79% decision making power. 
Snacks, books and comics, movies, sportswear and equipment and entertainment choices such as cinema tickets are also similarly influenced by the kids in the household.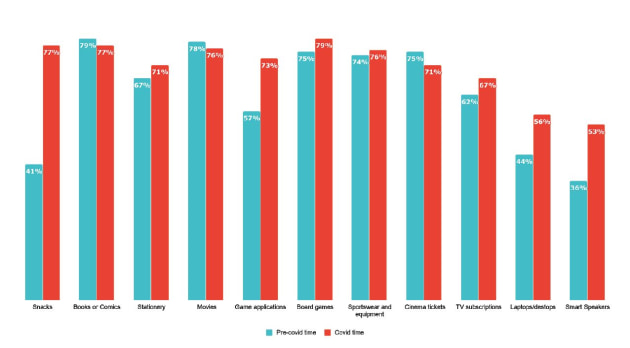 Where kids have influence over spend. Source: 2020 TotallyAwesome Kids Digital Insights
The report also indicates that the top three toy brands parents intend to purchase in the next month are Lego, Marvel and Barbie. 
However, this list changes when it comes to the top three brands leading online engagement in Australia, with Toy Story, Pokemon and Nintendo topping this list. 
TotallyAwesome's report also delves into digital habits during COVID and reports that one in three Aussie kids now have TikTok, but YouTube still remains the most dominant platform. 
Unsurprisingly, with more people spending more time online during lockdown, online advertising has seen its engagement increase, as well as the power of influencers, with TotallyAwesome reporting that 50% of kids acknowledged that their purchase requests are associated with an influencer. 
Online advertising vs.TV advertising. Source: 2020 TotallyAwesome Kids Digital Insights
The research also found that there has been an increase in co-viewing within the family, with 78% of parents and kids spending time online together, while the use of applications has increased 127%. 
TotallyAwesome CEO Will Anstee said that now is the time for brands to sharpen up their online content. 
"With online engagement for kids below the age of 13 at an all time high due to coronavirus lockdowns, this study is critical in helping brands reach this complex and tightly targeted consumer group. 
"Unequivocally, online engagement is the battleground for brands. Kids desire interactive, immersive experiences to engage.

"Brands need to take their passive content and make it active to succeed.

"Some brands are doing this successfully by activating the kids metaverse but most aren't," he said. 

Families reveal how they're spending time online together. Source: 2020 TotallyAwesome Kids Digital Insights
TotallyAwesome country director Jeremy Carr added that 2020 has accelerated kids' adoption of technology.  
"2020 feels like a paradigm shift across the globe and locally, where kids are adopting technological advancements and social change at the fastest pace I've seen in the past decade.

"With the greatest number of kids going online for the first time in their lives, it's more important than ever that we need real transparency and accountability of online service providers for the safety of their users and the mitigation of kids online data privacy breaches," he said. 
The full Kids Digital Insights report can be accessed via the TotallyAwesome website.