PayPal has released its mid-year mobile commerce (mCommerce) trends report, detailing how Australian consumers are shopping on their mobiles.
Surveying 1,018 Australian consumers and 485 businesses, the body found two key factors which are influencing the way consumers are shopping on their mobiles: sales events and shopping technology innovations.
The survey found that 68 per cent of consumers are always on the look out for sales and discounts, with younger Australians more likely to be looking for sales, with 77 per cent of Gen Z and 73 per cent of Gen Y keeping their eyes peeled for a discount. More affluent Aussies (earning $150,000+ per annum) are also likely to be searching for a sale, regardless of their age, with the report finding 74 per cent of them scouring for sales.
According to the results, the most popular sales to shop online are Boxing Day, End of Financial Year and the American Black Friday sale event making up the top three.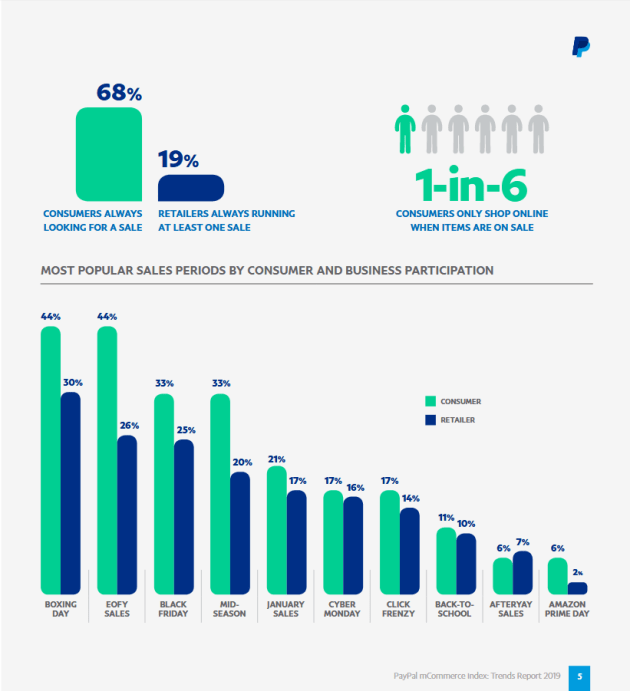 Source: PayPal mCommerce Report June 2019
The survey found that 57 per cent of the respondents prefer to shop the sales online, rather than in-store, but despite this preference, 51 per cent still shop the sales in physical stores.
Both Gen Z and Gen Y now prefer to shop sales online from their mobile or tablet rather than their laptop or desktop computer.

Waiting for an item to go on sale seems to be a popular behaviour, with the survey finding that 50 per cent of consumers have waited until the price dropped on an item before purchasing, which is again a more popular behviour among young shoppers.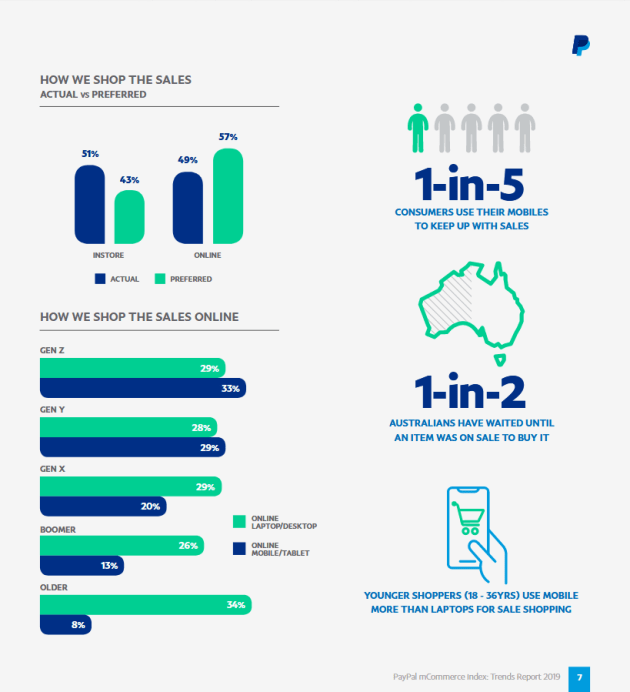 Source: PayPal mCommerce Report June 2019
Sales aren't all bad for business though, with 53 per cent of the business respondents indicating that a sale helps them attract new business, 40 per cent said it helps their business grow and 39 per cent said a sale increases revenue.
Consumer behaviour seems to back this sentiment, with 37 per cent indicating that they have bought a brand online that they normally wouldn't because of a sale, while a third (34 per cent) have bought items they didn't need because of a sale.
Meanwhile, innovations in online and mobile shopping technology is also changing the way consumers are shopping online.
Consumers are increasingly demanding a visual search option – a tool which allows consumers to upload photos from the web or real life to find similar or exact items to buy – from online retailers. 53 per cent of Australians have seen an image of a product online and have wanted to know more about it, such as price, where to purchase etc. making Visual Search a valuable capability in driving sales.
However, less than one in ten retailers have implemented a Visual Search technology, even though 39 per cent of consumers have a desire to use the feature, while one in five already have.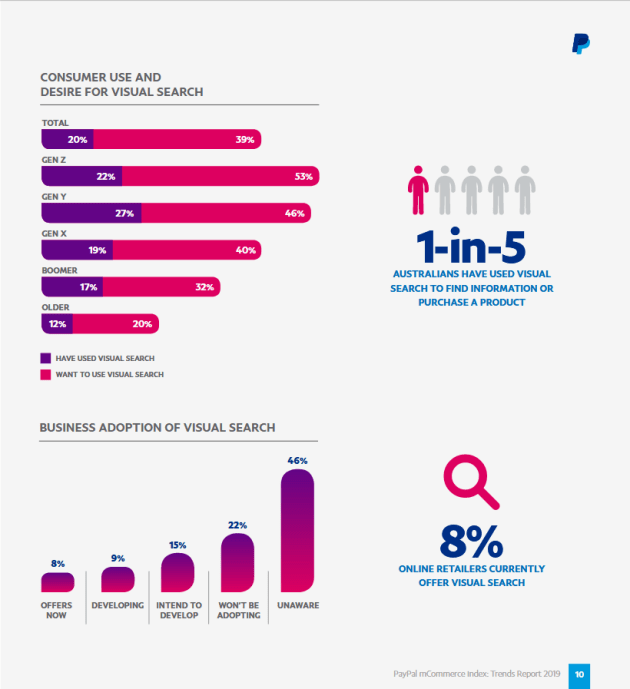 Source: PayPal mCommerce Report June 2019
To read the full report, click here.