Licensing trade show, Brand Licensing Europe (BLE), will introduce a new publishing activation dubbed 'Beyond the Book' at this year's fair.
The activation space will celebrate and showcase publishing's role withing the wider licensing industry and will highlight a collection of licensed works from exhibitors: Copyrights, Gallimard Jeunesse, Casterman, Penguin Ventures, Walker Books, Sanrio, Rocket Licensing, Tara Duncan and Metrostar. 
Alongside the Beyond the Book space will sit the all-new Publishing Pavilion which will offer entry-level pricing to start-ups and small brands to showcase new properties in the sector.
BLE event director, Anna Knight, said that publishing has always been a key pillar of licensing.
"Publishing has played an integral role in the licensing industry since day one – it's thought that Beatrix Potter was the first ever licensor back in the 1930s when she brought out a Peter Rabbit plush.
"According to our partner, Nielsen Book, 190 million print books were sold in the UK in 2018 and the market was valued at £1.6bn, accounting for 71 per cent of all UK book purchases.
"Children's print books equate to 20 per cent of that. As a licensing category, it's also incredibly strong, accounting for 7 per cent ($18,437 billion)* of global licensing retail sales by property type in 2017, which is an increase of 5.3 per cent.
"It's a source of super rich content and brand owners are continuously injecting new ideas, IP, characters and storylines into the pipeline for licensees and retailers to work with," she said.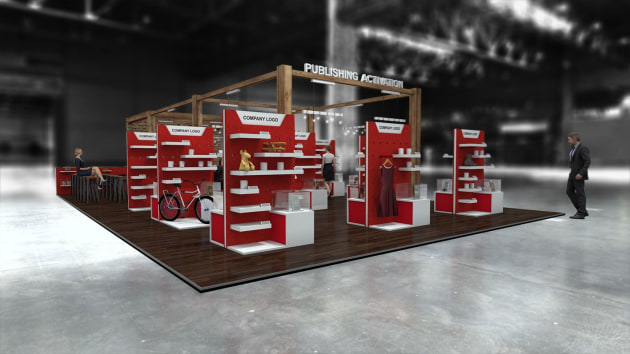 A mock-up of the BLE publishing activation space. Please note this is subject to change.
The space will also host special events including daily author 'meet and greets' and signing opportunities. Nielsen Book – the official partner of the program – will also hold a publishing session in the BLE Licensing Academy at the show.
Research director at Nielsen Book, Hazel Kenyon, said that the business is looking forward to providing key insights into the publishing sector to the BLE attendees.
"Nielsen Book is delighted to be a knowledge partner of BLE in 2019.
"Our expertise in analysis of consumer book purchasing places us in a unique position to be able to provide insightful data about books around the world. We look forward to providing a baseline – and perhaps surprising! – stats on children's book brands as well as the leading names in adult non-fiction."
BLE will take place from 01-03 October 2019 at ExCeL London. 
* LIMA Global Licensing Report 2017